The University hosted a Symposium on Sustainability that engaged expertise from diverse disciplines to examine ways that the University and the greater Scranton community could become more sustainable over the next 125 years. The symposium, part of the University's celebration of its 125th anniversary, was held Oct. 29.
The symposium included an introduction to sustainability through an example of a new solar collection device being developed at the University. Panelists were Pennsylvania State Senator John Blake; Michael Cann, Ph.D., professor of chemistry; Sharon Meagher, Ph.D., professor of philosophy and chair of the Department of Latin American and Women's Studies; Jessica M. Nolan, Ph.D., assistant professor of psychology; Mark Murphy, the University's director of sustainability; and James Loven, laboratory equipment manager, inventor and technologist.
Topics discussed included business and political perspectives on sustainability, green chemistry and the science of sustainability, social justice aspects of sustainability and environmental and social psychology.
Watch video of the panel here: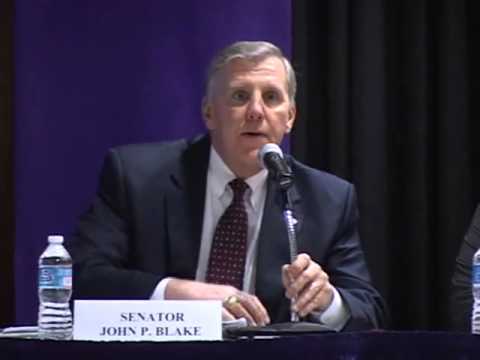 View photos from the Sustainable Practices Forum on the University's Flickr page by clicking here.