'Native Son' Helps Celebrate Library's Anniversary
In celebration of the 20th anniversary of the Harry and Jeanette Weinberg Memorial Library, the University hosted an event titled "Native Son: Stephen Karam in Conversation with Paul Holdengraber" in December. The evening highlighted Karam – a Scranton native – and his award-winning work. Karam has authored several critically acclaimed plays, including "Sons of the Prophet," "Speech & Debate" and "columbinus." Holdengraber, the dynamic director of public programs at the New York Public Library, led the conversation discussing Karam's life and work.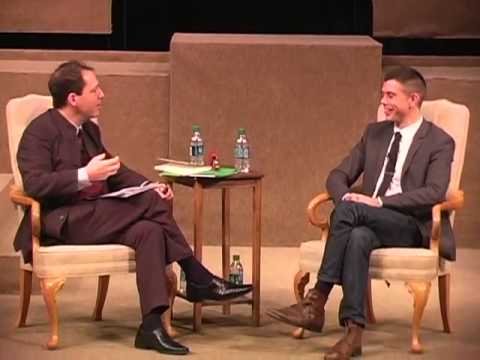 PBC Announces New Leadership, 2013 Honorees
The University's President's Business Council (PBC) began 2013 with new leadership and an enhanced organizational structure to better support its objectives of providing mentoring and career opportunities for current students, providing meaningful networking opportunities for alumni and friends, and raising funds for the Presidential Scholarship Endowment Fund. Tom O'Brien '86, founding partner of SumRidge Partners, LLC, is the new chair. Patti Byrnes Clifford '86, global chief talent officer for Havas Worldwide and chief talent officer for Havas Creative, is the vice chair for student engagement. Tom Lynch '86, executive vice president at KDC Solar, LLC, is vice chair for fundraising. Elizabeth Boyle Madden '96, vice president at Goldman, Sachs & Co., is vice chair for networking and member development.
At its Twelfth Annual Award Dinner, scheduled for Thursday, Oct. 3, at The Pierre Hotel in New York City, the PBC will present Jacquelyn '89 and John '86 Dionne with the President's Medal. A current member of the University's Board of Trustees, Jackie is a registered nurse who received her bachelor's degree in health administration. Her intensive care nursing career included several earned certifications while at Mount Auburn, a Harvard teaching hospital, and at the New Hampshire Heart Institute. She is an officer with the National Charity League. John, a founding co-vice chair of the PBC, is a Senior Managing Director and Head of Private Equity Investor Relations & Business Development at Blackstone in New York City. He received his MBA from Harvard Business School in 1991. John is a former chair of the University's Board of Trustees.
"Jackie and John are among our most engaged and devoted alumni," noted University President Kevin P. Quinn, S.J. "We are grateful for their many contributions and are proud to recognize them with this honor."
The PBC's Eleventh Annual Award Dinner was held on Oct. 4. More than 500 alumni and friends were in attendance as the Lynett-Haggerty family, owners of Times-Shamrock Communications in Scranton, was honored.
For more information on the PBC or the dinner, contact the PBC Office at (570) 941-5837 or pbc@scranton.edu.
New Vice President for Development and Alumni Relations Appointed
In February, the University welcomed Gary R. Olsen, a nationally recognized professional with more than 35 years of experience, as its new vice president for development and alumni relations. For the past two decades, Olsen has served as associate vice president for alumni relations and executive director of the alumni association at Villanova University, Villanova.
"Gary will bring a superior strategic vision and a deep commitment to engaging the wider campus community in development and alumni relations," says University President Kevin P. Quinn, S.J.
At Villanova, Olsen played a leading role in crafting its integrated development and alumni relations program. He was also involved with the strategic and operational development of two capital campaigns, founded an award-winning leadership summit, and established an alumni association board of directors, among other accomplishments.
That's Nice of You to Say
U.S. News Rates University Among 'Best Colleges'
For the 19th consecutive year, U.S. News & World Report ranked Scranton among the top 10 "Best Regional Universities in the North" in the 2013 edition of its "Best Colleges" guidebook. In its 2013 "America's Best Graduate Schools" listing, U.S. News also recognized several of the University's master's degree programs.
Excelling in Online Education
U.S. News & World Report's "2013 Best Online Education Programs" listing again gave the Scranton's online graduate program high marks. The University's online education program ranked No. 6 in the nation, and its online MBA program earned No. 39, according to the January listing.
Top Fulbright Producer Once Again
For the eighth consecutive year, the University was named one of the nation's "Top Producers of U.S. Fulbright Students." Scranton is among just 17 "Master's Institutions" in the nation making the list for the 2012-2013 academic year published by The Chronicle of Higher Education.
A total of five University of Scranton graduates received Fulbright scholarships for the 2012-2013 academic year. A total of 139 University students have received grants in the competitions administered by the Institute of International Education since 1972.
University Named 'Most Efficient'
A December listing by U.S. News & World Report includes Scranton among the nation's "highly ranked universities" that operate "most efficiently." The University is one of just 40 colleges in the nation recognized, and one of only two Jesuit institutions listed.
Business School Among the Best
The Kania School of Management is again listed among the elite "Best 296 Business Schools" profiled in the 2013 edition of The Princeton Review's guidebook. This marks the eighth consecutive year the University has been selected for the international listing of the "best business schools."
T.A.P.E.S.T.R.Y. Brings Education Together
This year's freshmen in the Panuska College of Professional Studies (PCPS) are the first to participate in a new co-curricular initiative devoted exclusively to developing healthy and well-rounded adults. 
The T.A.P.E.S.T.R.Y. program, a four-year program geared toward personal and professional development, offers students an opportunity to experience all the University can provide through a series of structured offerings. As part of T.A.P.E.S.T.R.Y., PCPS students will attend special lectures, complete service learning projects, meet with advisors, and participate in wellness activities designed to build a healthy and balanced lifestyle.
"We're looking at the whole person and what the person needs to be successful as a professional, including things outside of the classroom," says Victoria Castellanos, Ph.D., PCPS associate dean. "T.A.P.E.S.T.R.Y. provides a framework for these co-curricular activities to help students organize and understand how all of these things fit into their University of Scranton education.
"While traditional classes within PCPS are designed to develop the whole person, Dr. Castellanos says some topics inevitably fall through the cracks. The new initiative bridges the gap and provides opportunities for development that don't cleanly fit into a syllabus.
"The term T.A.P.E.S.T.R.Y. comes from the idea that there are threads across all the programs and across all four years of their undergraduate education in Panuska College," Dr. Castellanos explains.  
Sportsmanship Conference Draws Crowd, Sends Positive Message
Jim Thompson (pictured), founder and chief executive officer of Positive Coaching Alliance, addressed 300 University and high school student athletes from 20 area schools at the "Schools Shaping the Culture of Sport" conference held on campus March 5-6. The conference, presented by the Pennsylvania State Athletic Directors Association and the Bochicchio Sport Character Initiative, promotes the development of exemplary, positive culture of sport in Northeastern Pennsylvania. 
Celebrating Christmas with Breakfast
More than 520 guests and 100 volunteers celebrated the birth of Christ at the University's fourth annual Community Christmas Day Breakfast Dec. 25. The breakfast, held on the third floor of the DeNaples Center, was offered free of charge to the elderly and those who are alone or in need. The event was organized by the Center for Service and Social Justice and Dining Services/ARAMARK.
Business Club Bestows Professor of the Year Award
Officers of the Kania School of Management's Business Club bestowed their highest honor, the Professor of the Year Award, on Kathleen M. Iacocca, Ph.D. '07, assistant professor of operations and information management, at their annual Recruiting Expo Dinner. The coveted award is granted annually through a rigorous student-selection process. Dr. Iacocca is not only a faculty member, but also a Scranton graduate, receiving a bachelor's degree in finance and an MBA from the University.
Professor's Book Picked Among Year's Best
In December, a new book by Psychology Professor John C. Norcross, Ph.D., was selected by The Wall Street Journal as one of the year's best books. "Changeology: 5 Steps to Realizing your Goals and Resolutions" was among the six "best guides to later life" highlighted.In the book, Dr. Norcross, an internationally recognized expert on behavior change, shares his science-based program for reshaping behavior and ensuring permanent change. He explains why the process of self change is the same no matter what behavior is being altered and provides the steps and a structured timeline for lasting results.Dr. Norcross, a distinguished university fellow at Scranton, has written more than 300 publications and edited or co-written 22 professional books.
Former Professor Endows Scholarship
Former Scranton professor and the recipient of multiple Senior Fulbright Awards, Jay Nathan, Ph.D., of Clarks Summit, endowed The Professor Jay Nathan, Ph.D., Scholarship at the University to provide financial assistance to graduate students enrolled in the Kania School of Management who are from Mongolia, Thailand, India, Poland or the Central Asian countries of Kazakhstan, Kyrgyzstan, Tajikistan, Turkmenistan or Uzbekistand. The first recipient of the award for 2012-2013 is Nathawut Suksomanat, a graduate student from Chonburi, Thailand.A professor for more than 35 years, Dr. Nathan was a tenured faculty of the Kania School of Management from 1983 to 1993. He currently teaches as a tenured professor of management at St. John's University, Queens, N.Y.
University Presents Staff Members with Sursum Corda Awards
At a spring convocation, four staff members were presented Sursum Corda (Lift Up Your Hearts) Awards, recognizing employees who have made outstanding contributions to the life and mission of the University. Pictured (from left) are University President Kevin P. Quinn, S.J., and Sursum Corda Award recipients Brian Pelcin, university minister; Jim Piazza, carpenter; Kym Fetsko, administrative assistant for the dean of the Weinberg Memorial Library; and Barbara King, director of residence life.
Hundreds of Gifts Collected, Donated
More than 350 students, faculty and staff donated more than 700 individual holiday gifts, including clothing and toys, to those in need during the annual gift drive held by the Center for Service and Social Justice. In addition, participants "adopted" 88 children through the "adopt an angel" program in which sponsors provide multiple gifts for a child. Pictured (from left) are students Peter DeLong '14, Mary Longest '15, Kelly Judge '14, Kerry Delaney '14 and Lauren Delle Donne '13.
Class of 2016 Presidential Scholars Announced
Nineteen members of the class of 2016 were awarded four-year, full-tuition Presidential Scholarships, which recognizes incoming freshmen with outstanding records in high school and notable community involvement. Seated with University President Kevin P. Quinn, S.J., are (from left) Alison Gohn, Daniel Clark Jr. and John Clark. Standing (from left) are Ralph Petagna Jr., Norman Frederick Jr., Corey Wasilnak, Tricia Leavy, Andrew Hill, Marisa Riley, Shayne Wierbowski, Cecilia Strauch, Jessica Lavery, Christopher Kilner, Julie Dragonetti, Margaret Capooci, Sara Chapin and Krista Ziegler. Absent from photo are Christopher Musto and Vhalla Otarod.
Seven Students Named Scholars in Service
Seven students have been recognized as AmeriCorps Scholars in Service to Pennsylvania for the 2012-2013 academic year. The award honors students who have committed to complete 300 or 450 hours of individual service in the community during the academic year.
Each scholar volunteers primarily with one or two area nonprofit organizations throughout the year. Some of this year's service sites include the Griffin Pond Animal Shelter, United Neighborhood Centers of NEPA, Montessori Preschool and Kindergarten, St. Joseph's Center and Jewish Home of Eastern Pennsylvania. In addition, the students assist with numerous campus-wide service opportunities, which are organized by the Center for Service and Social Justice and often benefit area residents in need.
This is the fifth consecutive year that Scranton students have been honored with this recognition.
Double Major Receives McGowan Scholarship
The Luzerne Foundation awarded a 2012 Monsignor Andrew J. McGowan Cornerstone Scholarship to Kevin Dermody '13, an economics and history double major and a member of the Business Leadership Honors Program. He holds many leadership roles on campus, including serving as the president of the Pre-Law Society, Omicron Delta Epsilon (economics honor society) and Habitat for Humanity.The scholarship is awarded to students who are pursuing their education at one of the regional academic institutions to which Father McGowan had devoted his service.
Biology Major Wins Prestigious Scholarship
Vivienne Meljen '13, a biology major, was selected as a recipient of a Congressional Hispanic Caucus Institute Scholarship to pursue graduate-level study. To be eligible for the scholarship, a student must demonstrate active participation in community service activities, strong writing skills and financial need, among other criteria.
A member of a diverse group of honor societies, Meljen balances her academic studies with participation in numerous research projects, activities and service initiatives, including serving as a translator at the Leahy Clinic for the Uninsured and organizing a booth on Cuban history and culture at last year's Diversity Fair.
Faculty Member Elected to Serve on National Board
Gretchen J. Van Dyke, Ph.D., associate professor of political science, has been elected to a four-year term on the national board of the Lilly Fellows Program in Humanities and the Arts, which seeks to strengthen the quality and shape the character of church-related institutions of learning for the 21st century.Deeply committed to the liberal arts, Dr. Van Dyke – in her 19th year teaching international relations at Scranton – has served as the University's faculty representative to the Lilly Fellows Program since 2000.
Nursing Professor Honored with Service Award
Marian L. Farrell, Ph.D., professor of nursing, was awarded the University's John L. Earl III Award for service to the University, faculty and wider community. This award is presented annually to a member of the University community who demonstrates the spirit of generosity and dedication that the late Dr. Earl, a distinguished professor of history, exemplified during his years at Scranton from 1964 to 1996.An educator for more than 30 years, Dr. Farrell joined the nursing faculty at the University in 1990. Her areas of research include healing experiences of abused women, relationships of abused women and young adult women, and the impact of mentoring in young adult women.