Tenth Annual PBC Dinner Honors Farrell
Mary Beth Farrell '79, a former executive vice president of AXA Equitable Life Insurance Company, was presented with the University's President's Medal at the President's Business Council (PBC) Tenth Annual Award Dinner on Oct. 6 at The Pierre in New York City.
Tim Pryle, executive director of the PBC, commented: "Mary Beth's selection for the Tenth Annual Award Dinner is an excellent choice by the Honoree Selection Committee. She has been extremely instrumental in the PBC's first decade and is a living example of the objectives that we seek to achieve."
A native of Scranton, Farrell is a current member of the University's Board of Trustees and served as its vice chair from 2007 to 2009. She is the current chair of the President's Business Council and a former member of the Alumni Board of Governors. In addition to being a driving force behind the PBC since its inception, she is very comm
Athletic Award Dinner Named for Longtime Coach
On May 6, more than 400 people attended the inaugural Royals Annual Award Dinner in the William J. Byron, S.J., Recreation Complex, formally recognizing the late Peter A. Carlesimo's contributions to the rich history of Scranton athletics.
For nearly a quarter century, Carlesimo served the athletic department, coaching football, basketball and cross-country, as well as acting as athletic director.
Established to celebrate intercollegiate athletics at Scranton, the dinner – which will be known moving forward as the Pete Carlesimo Dinner – honors a person who has made special contributions to the athletic department, and seeks to raise funds for the department and the student-athletes that it serves.
This year's dinner raised $135,000. Carlesimo's son, P.J., a highly successful coach on the collegiate and professional level for more than three decades, delivered the dinner's keynote address.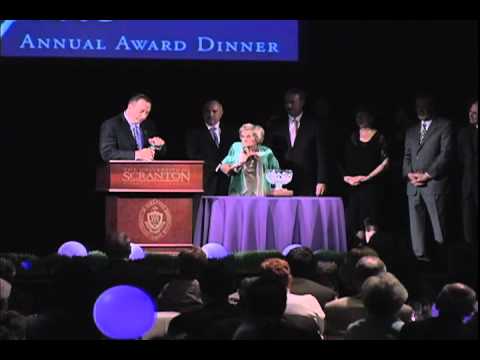 Arrupe Award Recipient Recognized for Service
Rev. Gregory Boyle, S.J., received the Pedro Arrupe, S.J., Award for Distinguished Contributions to Ignatian Mission and Ministries at an April ceremony. As the founder and chief executive officer of Homeboy Industries, which is the nation's largest gang intervention and re-entry program, Father Boyle works to "dismantle messages of shame and disgrace so that the soul can feel its worth."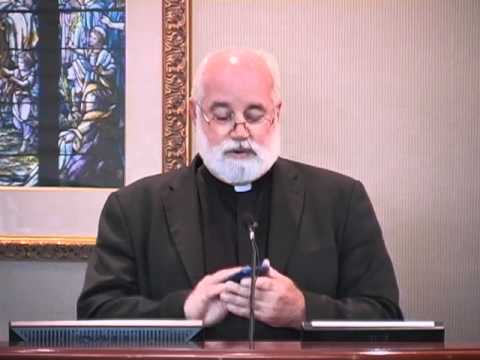 Commencement Celebrates Record-Sized Class
The University conferred more than 1,700 degrees at two commencement ceremonies Memorial Day weekend. It was the largest graduating class in the 123-year history of the Jesuit university.
On May 28, Scranton conferred 46 doctoral degrees in physical therapy and 700 master's degrees, both of which are records for the University, at its post-baccalaureate commencement ceremony in the Byron Recreation Complex on campus. The following day, more than 970 bachelor's and associate's degrees were conferred at the University's undergraduate commencement at Mohegan Sun Arena at Casey Plaza in Wilkes-Barre. Former President Scott R. Pilarz, S.J., served as principal speaker at the both ceremonies.
"My friends in the Class of 2011, your education here at Scranton introduced you to high ideals and aspirations," said Father Pilarz in his remarks at the undergraduate commencement. "Yours is a formation that elicits great desires – desires that direct your days and works to the glory of God and the well-being of humankind."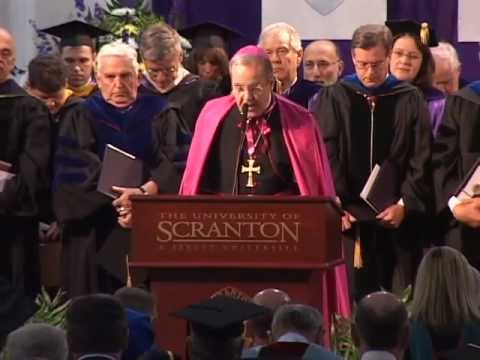 Head of the Class
At a Class Night ceremony on May 27, the Frank J. O'Hara Awards for General Academic Excellence were presented to members of the Class of 2011 with the highest GPA in each of the three undergraduate colleges and the undergraduate program for adults and part-time students in the University's College of Graduate and Continuing Education. 
Graduates Commissioned as Second Lieutenants
Thirteen members of the University's ROTC Class of 2011 were among the 17 graduates commissioned as second lieutenants in the U.S. Army at a ceremony during commencement weekend. Pictured (from left) are: 2nd Lt. Ryan Snyder, 2nd Lt. Theodore Skordinsky, 2nd Lt. Michael Maritato, 2nd Lt. Sean Milde, 2nd Lt. Karen Buchheister, 2nd Lt. Jeffrey Mason, 2nd Lt. Matthew DeGroft, 2nd Lt. Timothy Moore, 2nd Lt. Michael Faherty, 2nd Lt. Andrew Baker, 2nd Lt. Nicholas Westendorf, 2nd Lt. Christopher O'Neill, 2nd Lt. Christopher Mead, 2nd Lt. Corey Carr, 2nd Lt. Caroline Durbin, 2nd Lt. Sara Mathewson and 2nd Lt. Danielle Mallard. Dunmore native Brigadier General Christopher Burne '80, staff judge advocate at Headquarters Air Combat Command, Langley Air
Force Base, Va., served as guest speaker and delivered the oath of office to the cadets.
At a Glance: Commencement 2011
Total graduates: 1,718 (largest graduating class in history)
Total doctoral degrees: 46 (largest number of DPT degrees in history)
Total master's degrees: 700 (largest number of master's degrees in history)
Total bachelor's degrees: 971
Total associate's degrees: 1
States represented by undergraduates: 16
States represented by post-baccalaureate graduates: 38 including Alaska, California, Hawaii and Texas
Top undergraduate programs of study: Biology, Exercise Science, Communication, Nursing, Psychology, Elementary Education, Accounting and Marketing
Top graduate programs of study: Curriculum and Instruction, Educational Administration, Occupational Therapy and MBA
Commencement Speaker: Scott R. Pilarz, S.J., 24th president of The University of Scranton
Honorary Degrees:
• Freda Adler, Ph.D., director of the Master of Science Program in Criminology and visiting professor in the Department of Criminology at the University of Pennsylvania
• Carl J. Kuehner '62, past chair of the Board of Trustees and co-founder of Hope for Haiti
• Msgr. Andrew Martin, president emeritus of Camden Catholic High School, Cherry Hill, N.J
Scavenger Hunt Draws Students Downtown
By Cory Burrell '14
Scranton students had a unique opportunity during Fall Welcome Week to explore the many boutique shops, ethnic restaurants, cafes and cultural venues that make up the Electric City.
The University held its first-ever Downtown Scavenger Hunt on Sept. 2. The event was open to all students.
More than 250 students registered in pairs and received T-shirts and maps at the DeNaples Center's patio, then descended to downtown Scranton with the goal of locating as many of the more than 30 participating businesses as quickly as they could. The students, using the Foursquare mobile app to obtain clues, had to find a poster version of Iggy, the University's mascot, in each location. Iggy also made cameo appearances around town.
Mary Kate Gallaglier '15, from Port Ewen, N.Y., said the scavenger hunt was a great way for her to learn about Scranton. "I thought it was a lot of fun," Gallaglier said. "It was a really good way to see the city."
"It was very eye-opening," added Mike Trischetta '13, from Scranton. "I saw a lot of places I otherwise never would have gone to."
In coordinating the Downtown Scavenger Hunt, the Office of Community Relations partnered with the Center for Student Engagement, the University's Small Business Development Center,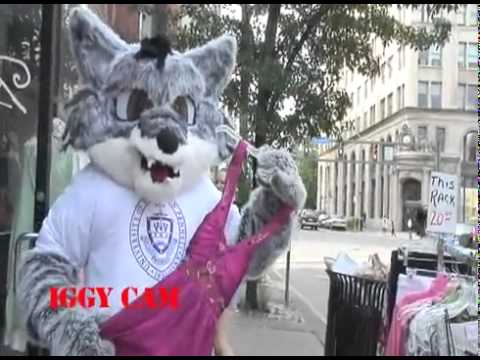 What Others are Saying About Scranton
"[Scranton has] recently made the most promising and innovative changes in the areas of academics, faculty, student life or facilities."
– Source: U.S. News & World Report ranked Scranton among the top 10 "Best Regional Universities in the North" for the 18th consecutive year, as well as among "Great Schools at a Great Price," and among just 45 "up and coming" colleges in the nation.
"If you come here, expect to be challenged to become a better person, to develop a strong concern for the poor and marginalized and to grow spiritually and intellectually."
– Source: For the 10th consecutive year, The Princeton Review named Scranton among the select schools in the nation profiled in its 2012 edition of "The Best 376 Colleges." The college guidebook lists just 15 percent of the nation's 2,500 four-year colleges and universities.
"This was easily the friendliest, warmest, most welcoming campus I visited. My experience here has strengthened this view."
– Source: In a July 2011 online article titled "The FRIENDLIEST Colleges," published by The Huffington Post, Scranton was ranked among the eight most pleasant colleges in the country, noting its sense of community and welcoming campus.
OTHER RECOGNITION
The University was named to the President's Higher Education Community Service Honor Roll for 2010, the highest federal recognition colleges and universities can receive for their commitment to volunteering, service learning and civic engagement.
 Scranton is ranked No. 36 in the nation among the top 50 master's universities listed in the September/October 2011 issue of

 

Washington Monthly, which measured how well universities are meeting their public obligations of providing research, service and social mobility.
 For the fourth consecutive year, Scranton is ranked (No. 170) among the nation's elite universities included in

 

Forbes

 

magazine's online listing of "America's Best Colleges" in 2011.
A Tour of Asia
Students, faculty and staff, as well as the local community, embarked on a tour of Asia during the 2010-11 academic year. Marketing its Asian Studies Concentration, the University's faculty organized a yearlong "Tour of Asia" – a series of activities focusing on the political, economic, historical and cultural issues of Asian nations, including Taiwan, Japan, Korea, Thailand, China, India, Nepal, Bhutan and the Philippines. In culmination of the tour, the University hosted a performance in April of "Bond," an adaptation of William Shakespeare's "The Merchant of Venice," by the Taiwan BangZi Opera Company. More than 1,800 people attended the opera held at the Scranton Cultural Center.
Expanded Services to Community, Parents
In an attempt to better integrate the University into the community, as well as make Scranton more accessible to the families of current students, two new offices opened this spring.
Local residents, nonprofits and businesses have a new resource for information with the arrival of the Office of Community Relations. Through a comprehensive website, and monthly e-newsletter, the office highlights the many events and programs the University has to offer. For more information, visit www.scranton.edu/community.
The Parent Relations Office offers parents a one-stop source for information about their student's college experience. The office focuses on providing in-depth information of campus life, including features on student organizations and other events. For more information, visit www.scranton.edu/parents.
Get the Scranton App for Your Smartphone!
Always have the latest University news, events and information at your fingertips. Visit us at scranton.edu/mobile. More than 8.800 downloads so far!